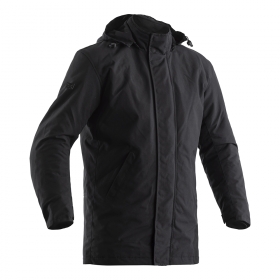 Fashion styling meets full motorcycle CE certified protection with the Chelsea 3/4 length jacket, which is part of RST's Metropolitan Range - designed for the urban city commuter.
The jacket may look casual but is anything but. CE Certified to Level A, this scooter jacket features CE level 1 shoulder and elbow armour and comes with a pocket for the back protector. It's made from a hardwearing but lightweight HTC fabric and reinforced by a durable MaxTex textile at key impact areas.
Added to this are the fixed mesh lining which aids air flow through the jacket and the SinAqua waterproof, breathable lining and removable quilted thermal lining which offers protection from the elements. The jacket also features a storm flap to stop water from penetrating the jacket, stopping water from penetrating through the zipper and wetting the layers beneath. The three-quarter zip enables the jacket to be left open slightly, offering free range of movement and comfort when you are on the saddle. The jacket also features a removable hood, which is adjustable using the drawstrings, allowing a more tailored fit.
Overall, ultra-high quality fabrics both internally and externally, not only give the jacket a high end styling but the protection to match.
Contact us for more information
---