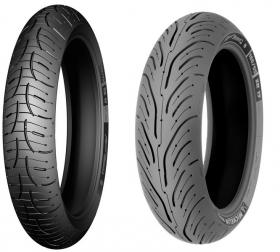 Michelin Pilot Road 4 Tires
The Michelin Pilot Road 4 tires represent the latest iteration and next generation of Pilot Road evolution. Designed to deliver maximum safety in most conditions especially on wet roads and in particular when braking, Michelin's goal is to cover all riders in all conditions. Touting both enhanced safety and extended tire life, the Pilot Road 4 tires are a tangible illustration of Michelin's Total Performance strategy of constantly and simultaneously improving tire performance characteristics across the range.
The Pilot Road 4 tires will be available in three versions, the standard ROAD4, ROAD4 Trail for enduro and ADVENTURE bikes that are primarily ridden on-road and the ROAD4 GT for heavier, touring bikes. The Pilot Road 4 GT tires are already the OEM choice for the new BMW R1200RT.
Superior wet-weather performance
Michelin Pilot Road 4 tires stop shorter in the wet vs. the leading competitive sport touring tires and Michelin Pilot Road 3
Longest tread life in its class
Up to 20% longer tread life than Michelin Pilot Road 3 tires
Dependable grip even in challenging conditions
2 Compound Technology with all new silica-charged rubber compounds for excellent grip from 23°F to 113°F
New XST+ siping and enhanced tread patterns for optimum grip at all lean angles
Three separate versions available
Pilot Road 4 for all-around sport touring use
Pilot Road 4 GT has a stiffer casing with a patented new technology for motorcycle tires that delivers the stability you need for heavier GT-class bikes while riding solo, two-up or with luggage, and the comfort you desire
Pilot Road 4 Trail for adventure touring bikes ridden exclusively on the road
PILOT ROAD 4 GT
120/70-17 4GT €160 180/55-17 4GT €206 SET €366
120/70-17 4GT €160 190/55-17 4GT €213 SET €373
Contact us for more information
---