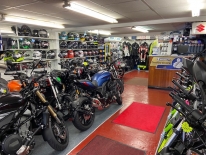 ABOUT US
Situated 500 yards north from the Christy Ring Bridge on Carrolls Quay , We are the only motorcycle and scooter shop in Cork city centre.
On the ground floor you'll find our showroom with up to date models from scooters to superbikes from world leading manufactures. We stock a range of new and secondhand bikes and scooters to suit anyones needs, and are always on hand to recommend the bike to suit your needs !!!
Also situated on ground floor is our extensive RST clothing , AGV , ARAI and AFX helmets and motorcycle spares parts department in which we stock products from leading companys . .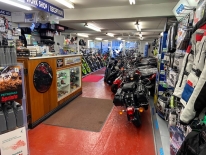 CLOTHING DEPARTMENT
RST clothing department now located on ground floor ... Jackets ,pants ,boots and gloves in which we cater for custom , enduro , road and race gear ..