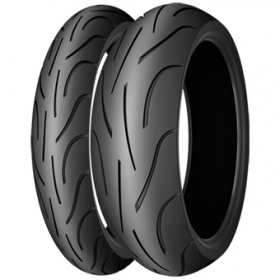 EXTREME TYRES FOR EXTREME BIKES

With 2CT dual-compound technology, Pilot Power 2CT tyres achieve a maximum lean angle of 51.2º – unprecedented for a street tyre.
Named "tyre of the year" by Motorcycle News (UK), and winner of comparison tests in Moto Revue (France) and Motorrad (Germany) in 2006 and 2009, the Pilot Power 2CT is Michelin's ultimate hypersport tyre. It's the perfect match for today's race-ready sportbikes.
CLICK ON LINK BELOW
PILOT POWER 2CT
120/60-17 2CT €122 160/60-17 2CT €152 SET €274
120/70-17 2CT €127 180/55-17 2CT €158 SET €285
120/70-17 2CT €127 190/50-17 2CT €164 SET €291
120/70-17 2CT €127 190/55-17 2CT €170 SET €297
Contact us for more information
---