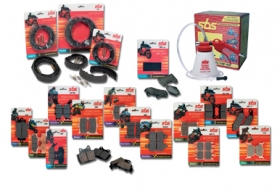 SBS motorcycle brake pads are the "Choice of Champions". Each season SBS is the preferred brand with the world's top riders when titles are distributed in the world of Supersport 600, Superbike, etc.
SBS' sublime braking properties are the result of systematic, sustained product development that focuses on creating the optimum combination of performance, durability, and safety. Knowledge, experience, and enthusiasm are the motive force in our R&D department where staff constantly set new standards and can always fulfil the demands of the best riders.
Tests and more tests are a central aspect of our R&D. We perform tests on the basis of various methods in order to ensure the best results before products are launched,

Street tests are carried out on our test bikes and scooters that are equipped with complete data- logging equipment for gathering data, which can be transferred and further processed.
SBS' dynamometer is at the heart of our tests. This allows true-to-life simulations on the basis of data-logs from races and street tests, and all significant parameters can be measured over time.
SBS collaborates with leading race teams in the fields of road racing, endurance, and motocross. Products are tested under extreme loads before they are sent on the market.

PLEASE CONTACT US FOR FITMEMT AND PRICING !!!!




Contact us for more information
---