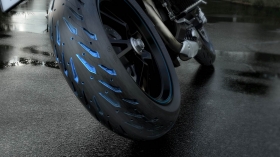 Michelin has taken the performance of its Sport Radial tyre range to an
even higher level with the new MICHELIN ROAD 5. This exciting
newcomer is poised to succeed from new tyre comes from the DNA of the
MICHELIN PILOT ROAD 4 which itself emerged as the European Sport
Touring tyre market's undisputed benchmark, with sales in excess
of 1.5 million tyres since its launch four years ago. In an in-house
evaluation comparing the new tyre with its chief competitors, the
MICHELIN ROAD 5 came first with regard to grip on wet
roads*. And it continues to deliver high performance in wet
conditions throughout its life*, since the MICHELIN ROAD 5
stops as short under braking with more than 3,000 miles on
the clock than new MICHELIN Pilot ROAD 4s**! In addition to
these improvements, the MICHELIN ROAD 5 combines
optimal grip on dry roads, superior stability compared with
its main rivals and outstanding road manners***, a key


consideration for owners of Sport Touring motorcycles.
PILOT ROAD 5
120/60-17 RD5 €143 150/70-17 RD5 €167 SET €310
120/70-17 RD5 €145 160/60-17 RD5 €177 SET €322
120/70-17 RD5 €145 180/55-17 RD5 €188 SET €333
120/70-17 RD5 €145 190/50-17 RD5 €193 SET €338
120/70-17 RD5 €145 190/55-17 RD5 €196 SET €341
PILOT ROAD 5 TRIAL
110/80-19 RD5T €145 150/70-17 RD5T €165 SET €310
120/70-19 RD5T €147 170/60-17 RD5T €183 SET €330
PILOT ROAD 5 GT
120/70-17 5GT €156 180/55-17 5GT €202 SET €358
120/70-17 5GT €156 190/50-17 5GT €207 SET €363
120/70-17 5GT €156 190/55-17 5GT €212 SET €368
120/70-18 5GT €165 170/60-17 5GT €197 SET €362
Contact us for more information
---